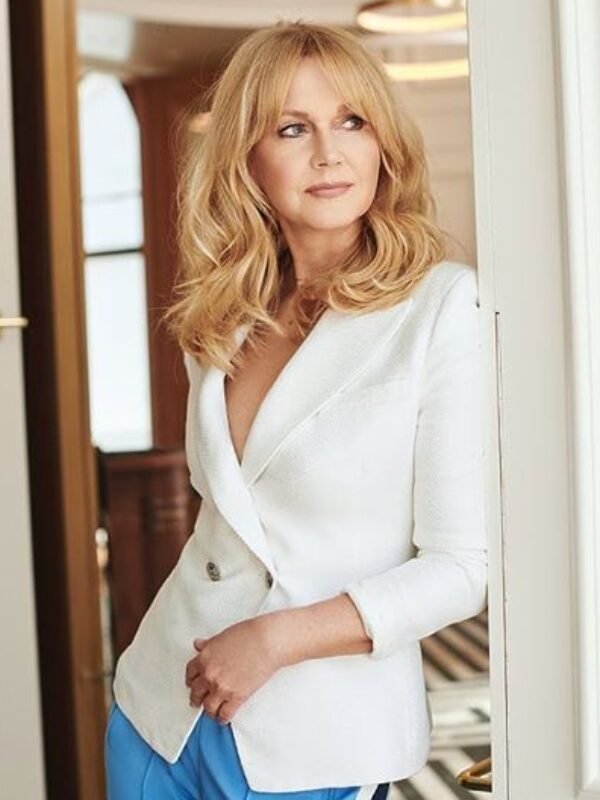 ---
Profession
journalist/ presenter/ emcee
---
Language
English, French, Italian
---
Grażyna Torbicka is a journalist and culture creator, primarily focused on film art. She graduated from the Department of Theatre Studies at the Academy of Theatre in Warsaw.
Since 2007, she has been a co-creator and artistic director of the Film and Art Festival Two Riversides in Kazimierz Dolny.
For 31 years, she was associated with TVP Program 2, authoring numerous reports on artistic themes and TV programs dedicated to culture.
From 1996 to 2016, she authored the film magazine "Kocham Kino," promoting author and artistic cinema as well as young Polish filmmakers. During those years, she also authored reports and accounts of film festivals in Berlin, Cannes, and Venice, conducting interviews with the most outstanding creators of Polish and global cinema. For the "Kocham Kino" program, she received an award from the Polish Film Institute. She is a member of the European Film Academy and the Polish Film Academy.
In March 2016, she left Telewizja Polska.
Since 2016, she has been the author of the show "Kocham Cię Kino" on Radio Zet, and also the author of the TVN Fabuła series "Grażyna Torbicka invites."
She is a co-author and host of prestigious galas, including the Nike Literary Award, Paszporty Polityki, the Gdynia Film Festival Gala, the International Film Festival in Venice Gala, the Chopin Competition Gala, and many others.
From 1997 to 1998, she moderated press conferences at the International Film Festival in Venice. From 1998 to 2004, she was the host of evenings at Teatro Greco in Taormina, Sicily, during the TaorminaFest International Film Festival.
She was a juror at the Berlin, Cannes, and Bari International Film Festivals. She is a laureate of many awards, including eight Wiktor Awards (Polish Television Academy Awards), including Super Wiktor as a television personality, three Telekamer Awards, and the Golden Telekamera Award. For her cultural activities, she received the Knight's Cross of the Order of Polonia Restituta, the Silver Gloria Artis Medal of the Minister of Culture and National Heritage, and the Stella Della Solidarieta Italiana Medal awarded by the President of the Republic of Italy for promoting Italian culture.
In 2009, she became an Honorary Citizen of Kazimierz Dolny, and in 2018, she received the title of Ambassador of Lublin Region for creating the Film and Art Festival Two Riversides in Kazimierz Dolny.
She knows three foreign languages: English, French, and Italian.
---
# Grażyna Torbicka kontakt
Back to the list